4 days, 20 courts, 32 teams and 321 players, the U18 Inter Counties Tournament


(or ICT as it is better known) is the Badminton England competition highlight of the year.
Based in the Easter holidays teams descend on Nottingham for 4 days of competition, beating drums and blowing air horns and playing badminton as hard and fast and cleverly as they can.
Wiltshire's squad got to experience University Halls of Residence and made friends with many counties across the UK - it was as great a tournament for socialising, as it was for performance. Wiltshire's team spirit shone throughout and was often supported by other counties, in particular Avon and Devon who became supporters cheering on Wiltshire matches - and which Wiltshire returned
sitting on the side lines of Avon and Devon matches and offering support.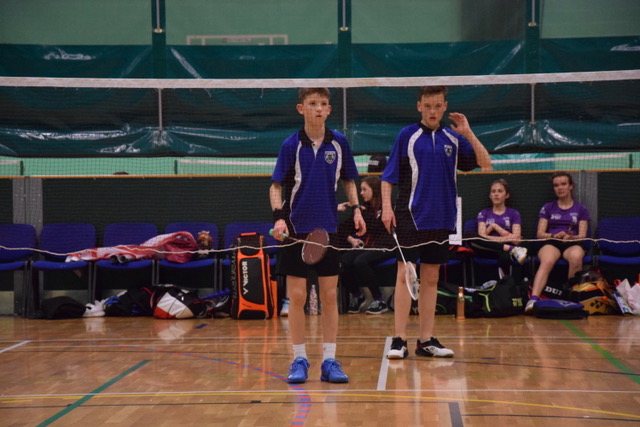 This year was no exception and Wiltshire's young squad (the second youngest team in the tournament) held their heads high and played utterly fearlessly against older, more experienced and often significantly higher graded players. In some instances they almost got the better of players who were C or D graded or part of the current Junior England Squad. Wiltshire moved up a box following on from their successes on Day 2 and finished the tournament in a respectable 28th place, beating Middlesex, Cumbria, Suffolk and Northamptonshire.
The team comprised 5 girls and 5 boys, led by our brilliant young coach Henry Protheroe who, assisted by Raymond Tan, guided them
throughout the tournament.
The girls were Riya Tarar, Penny Bunyan, Nirmala George, Srisha Sampalli and Megan Williams and the boys Saahen Shetty, Matthew Jenkins, Christian Tan, Leon Kashdan-Brown and Harry Gray.
All games were best of three to 15 with no setting 'sudden death' - we grew to dislike the number 14, and learnt to love the number 15!
Wiltshire's first draw on Day One was super tough, with Wiltshire drawing Hertfordshire who were ranked in 5th - 8th position and came 7th place overall in the competition.
Christian Tan and Megan Williams kicked off proceedings with a tense two game XD2 match in which they almost pulled through to three games gaining 12 points against an E & G graded player.
Saahen Shetty took his first MS1 match to three games, winning the first game, against a C grade player 2 years older than him ranked 4 places above him. Final score: 15-10, 7-15, 9-15.
Next up were Nottingham ranked 9th - 24th (18th overall in the competition) whose squad included the Brierley sisters who are both part of the current Junior England Squad.
Harry Gray, in his first ever tournament outing representing Wiltshire, went to three games in an unbearably close match against a player ranked 2 places higher than him. Final score: 15-14, 8-15, 13-15
Penny Bunyan almost converted her second WS1 game against one of the Brierley sisters (14-15).
Wiltshire's first wins of the day came in the evening in their match against Lancashire (Ranked 9th - 24th) who came 11th overall in the competition, with Riya Tarar WS1 and Penny WS2 comfortably beating their Lancashire opponents. Final Scores: Riya 15-6, 15-11, Penny 15-12, 15-6
A good way to end the day with scores on the
board: 2-8
Day Two started off with a frustratingly close match against Lincolnshire (20th place overall in the competition) with Wiltshire almost succeeding in a draw but unable to quite convert. Final match score: 4-6
Against Lincolnshire, Nirmala George and Harry won their first game of the tournament in their XD2 match. Final Score: 15-14, 15-12
Matthew Jenkins won his first MS2 match of the tournament comfortably. Final Score 15-8, 15-10
Riya won her WS1 in a tense three game match against an opponent ranked 1 place higher than her and three years older. Final Score: 15-13, 12-15, 15-14
Penny comfortably won her WS2 matches Final score: 15-4, 15-6
Next up were Staffordshire Ranked 9th - 24th. Wiltshire held them to account, and although we did not win started to inch up the score board with a final match score of 3-7
Once again Riya and Penny won their singles games against two older players and Nirmala and Srisha Sampalli won their women's doubles.
Final Scores: Riya: 11-15, 15-8, 15-11, Penny: 15-11, 15-7, Nirmala & Srisha 15-9, 15-7
That evening Wiltshire clinched their first clear victory against Suffolk winning 6:4.
Saahen won his first singles MS1 Final score: 15-6, 15-10
Matthew won his second singles MS2 of the tournament Final score: 15-10, 15-9
Riya won her third WS1 Final score: 15-7, 15-8
Penny won her third WS2 Final score: 15-6, 15-5
Penny and Riya then went on to claim their 1st WD1 victory of the tournament. Final score: 15-8, 15-11
Nirmala and Megan finished off the day brilliantly by winning their WD2 after an extremely close first game Final score: 15-13, 15-5
Day Three was a day of draws!
The morning match against Herefordshire resulted in a 5-5 match result which went down to game difference with Herefordshire squeaking victory by 3 games.
This was arguably the tensest match of the tournament, although the match that was to follow came close!
Here Leon Kashdan-Brown and Srisha won their XD2 in a tense three game match Final score: 15-11, 14-15, 15-12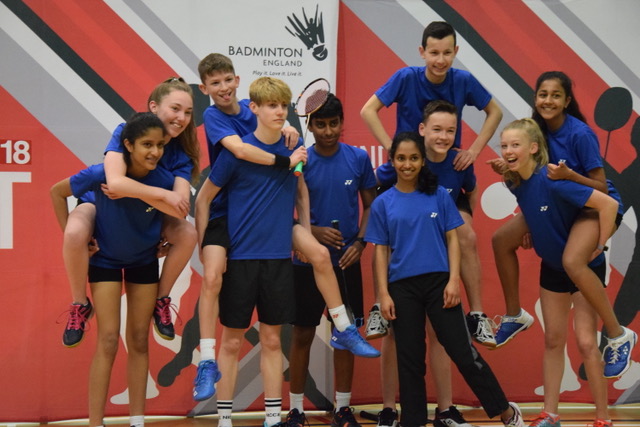 Riya and Penny won their WS1 and WS2 both in achingly brilliant 3 game edge of your seat displays of courage and tenacity from both girls.
Riya had previously played her opponent in 2018 in U17 Silver Gloucester BE tournament where again they had played a 3 game match with Riya winning 15-13, 13-15, 17-15! Penny had met her opponent once before at an U15 Silver tournament in Birmingham with the score going against Penny 10-15, 14-15. Penny had a score to settle and succeeded!
Final score: Riya: 14-15, 15-5, 15,11
Final score: Penny: 12-15, 15-10, 15-14
Penny and Riya then went on to win their WD1 in 2 games - Final score: 15-11, 15-8
To finish off the morning's match, Nirmala and Megan won their WD2 in 2 games with an unnervingly tense but victorious score of 15-14, 15-14!
Victory was sweet in the afternoon after the Herefordshire match, with Wiltshire this time stealing victory from Northumberland by 5 points!
Wiltshire's team chant became 'Every Point!' from thereon in, to encourage their team mates during their matches, and remind themselves of the importance of going for each and every point.
Saahen won his second MS1 in 2 games. Final Score: 15-5, 15-8
Riya won her WS1 in 2 games Final Score: 15-10, 15-4
Penny won her WS2 in 2 games Final Score: 15-4, 15-6
Harry and Saahen won their XD2 in 2 nail bitingly close games Final Score: 15-13, 15-13
Penny and Riya finished the day and deciding game with another tense 3 game match Final Score: 15-12, 9-15, 15-10
Final match score 5:5 to Wiltshire!
Day 4 saw Wiltshire's hopes of finishing top of their box dashed by a strong Isle of Man team - Final match score 3-7
Again some unbearably tense matches with scores tipping at 14-15 and 50% of all games going to three.
Riya took her match with another tight score line 15-14, 13-15, 14-15
Penny Bunyan won her WS2 13-15, 15-14, 15-7
Harry and Saahen proved a crack team at MD2 winning 15-12, 15-11
Penny and Riya played another valiant game to three and Nirmala and Riya claimed victory in their WD2 match in an other 3 game thriller Final Score: 9-15, 15-14, 15-14!
Our young squad should be hugely proud of their achievements!
Until next year!