South West Counties Championships 11th/ 12th June 2022.
Last weekend a small contingent of NWBP players left Wiltshire for sunny Devon to play in the annual South West Counties Championships. Held at Torbay Leisure Centre the championships comprised of U12/13 and U16/17 held on the Saturday and U14/15 and U18/19 on the Sunday.
In the U12/13 event Benedict Vaughan played both the boys singles and doubles, relatively new to the tournament circuit. Benedict played tremendously well and impressed everyone with his tenacity and skill. Benedict finished 3rd in his group for the boy's singles and was 4th in the boys doubles, this is an amazing result especially considering the doubles partnership was their first outing.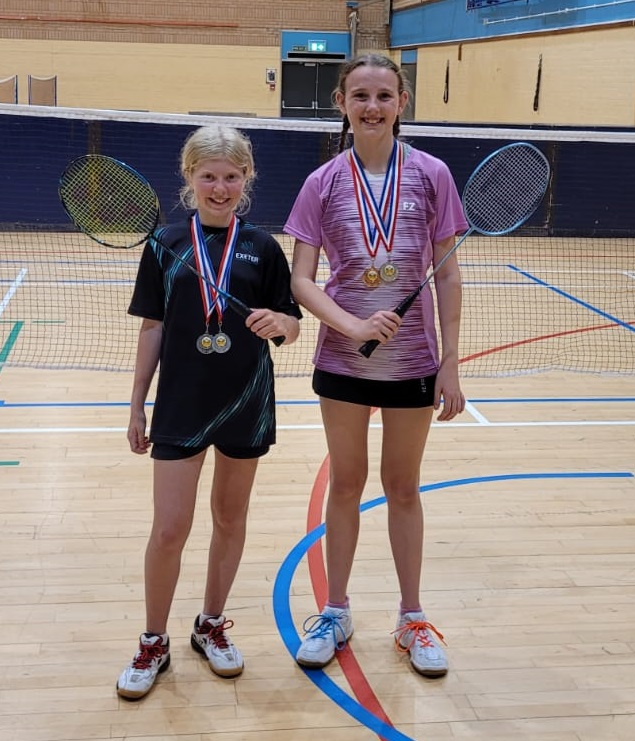 In the girls U12/13 event Imogen Drew showed her calibre yet again winning gold in the girl's doubles with her long term partner Zinnia Bromell- James (Devon), they dominated the small group and won convincingly. Imogen also won silver in the girl's singles event losing out to a very talented Guernsey player.
Danann Butler-Roche, choosing only to compete in the girl's doubles event while she recovers from an injury, picked up a superb gold medal with new partner Sharlene Careng from Avon. The new paring played very well together and intend to play more tournaments in the future.
The following day saw the U14/15 and U18/19 events and both Imogen and Danann decided to play up into a higher age group; it was also the inaugural tournament for Joe Thomas.
The day started very well with Imogen winning 3 out of her 4 U14/15 singles matches and coming second in her group, just losing out to the eventual winner 21-18 but securing a well-deserved bronze medal. She added to her medal haul for the weekend by securing a silver medal in the U14/15 girl's doubles, again with Zinnia, they should be very proud of their performance over the weekend.
Joe Thomas, who has been playing for less than a year, was hugely impressive in his events. In the U14/15 boys singles he came 3rd in his group and despite playing against others with far more experience was resilient and showed a level of maturity beyond his years. Playing the doubles with a new partner, they gelled immediately, and put up some very impressive scores against established pairings. Joe should be congratulated on this excellent first performance.
Lastly, Danann, playing again with Sharlene took the gold medal in the U18/19 girls doubles event. Winning medals in your own age group is difficult enough but winning a gold in the next age group up is an excellent achievement. Well done girls!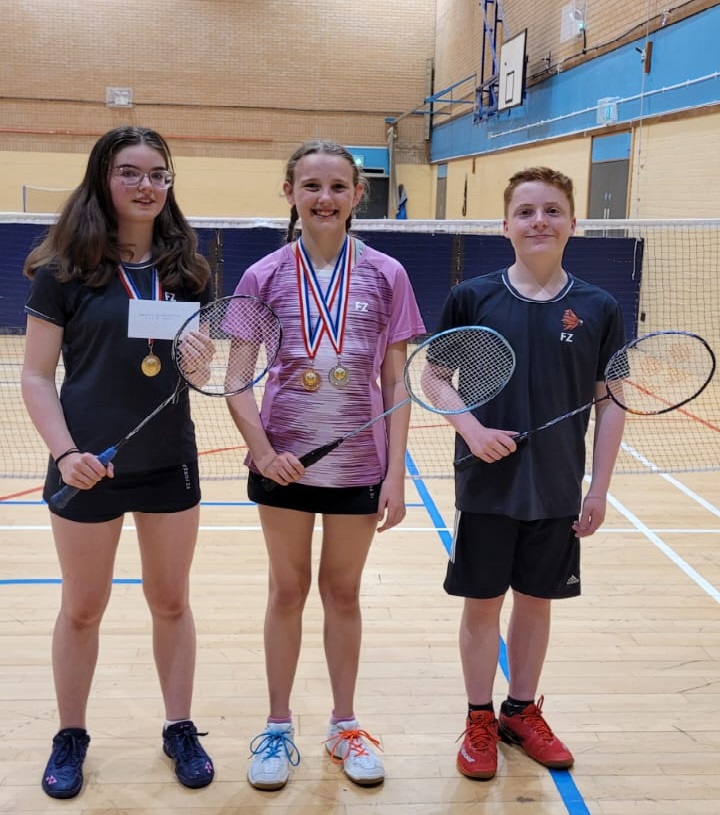 Many thanks to the organisers, SWCBA, and of course to our head coach at NWBP Melanie Vickery who has coached and guided these children to enable them to perform and be successful at this level of competition.
---
ICT Badminton – Nottingham University 10th to 13th April 2022
When ICT 2022 was finally confirmed, County Juniors were so excited about the prospect of representing Wiltshire as it did three years ago. With the full backing of Wiltshire County Badminton, we set about planning the event. Led by Head Coach Steve Hulbert, Emma Lewis and Geoff Mascall, we selected the team and encouraged parents to support the event. Many people who have played at ICT in the past would say that it was the highlight of their badminton journey as a Junior. The atmosphere, the noise, the excellent badminton and being away as a team all add to making it a very special event.
We wanted to ensure the team looked smart and so we set about selecting a team shirt as well as hoodies for all players and helpers to wear. We certainly looked a team. Janet Jenkins did an excellent job of organising all the administration, accommodation bookings, pack lunch food, travel logistics, the shirts, and a few horns to make a noise. After many weeks of preparation, we finally arrived at the day and with parent helpers we rendezvoused in Nottingham at our 'student' accommodation. Raymond Tan and John and Janet Jenkins were the chaperones and with some fun games and pizza we prepared ourselves for the matches the following day. Gary Pennington became our food back up and a big thank you goes to him for keeping us supplied with food for our lunches.
Our first match was against Warwickshire who had won the tournament in previous years.
Tough opposition but Wiltshire proved better, and we had a great first win! Overall, the games were tough and with three matches being draws and so going to points, we just missed out on doing even better than we did. Every point counted. We finished 10th out of 22 teams, a fantastic achievement and probably one of the best Wiltshire has ever had in this tournament.
The results:
Wilts v Warwick 6-4 (Great first win)
Wilts v Leinster 0-10 (Tough game against the side that ended up 3rd overall)
Wilts v Leicester 5-5 (We lost by 4 points)
Wilts v Cheshire 2-8 (2 good game wins against the side that game 2nd overall)
Wilts v Kent 5-5 (We lost by 13 points)
Wilts v Suffolk 6-4 (Decisive win)
Wilts v Northumberland 5-5 (We won by 3 points)

Great comradery, great coaches and helpers and great praise for all the Juniors who took part. They conducted themselves exceptionally well and gave their very best on court. A big thank you to everyone who was involved in any way with the event and planning. Hopefully we can build on this for next year.